Recently Phase One presented Capture One Fujifilm; a new version of the RAW converter designed to work with Fuji RAF files only.
Capture One Fujifilm has two running modes: Express and Pro.
Fujifilm Express is a completely free version of Capture One with a basic set of image editing tools.
Fujifilm Pro offers all the professional features of Capture One and comes with a special, lower price tag.
Now Capture One Pro and Fujifilm Pro support Fuji medium format camera GFX 50S, tethered shooting with Fuji cameras and Fujifilm Film Simulations.
Which version of Capture One is it better to choose for Fuji photographer? Let's learn Capture One Fujifilm in all the details!
Table of Contents
1. Why Capture One
2. How to Install Capture One Fujifilm
3. Capture One Express Fujifilm
4. Capture One Pro Fujifilm
5. Pricing
6. Get a Special Discount
7. What to Choose: Perpetual License or Subscription?
8. Free Guide to Capture One
9. Film Styles for Capture One
10. Join Capture One Community
1. Why Capture One?
Capture One is a professional RAW-converter which is well known for realistic and clear color "rendering", outstanding processing tools and wide tethered shooting capabilities.
To learn more about the best Capture One features, I recommend starting with my article "10 Reasons to Switch to Capture One".


It will give you a complete understanding of how Capture One is different from other RAW converters and why it's worth to allocate your time to master it.
2. How to Install Capture One Fujifilm
First of all, download Capture One Fujifilm from PhaseOne.com.
Note that Fujifilm Express and Pro are the parts of the standard Capture One software. You can download any version of Capture One (Fujifilm Express, Pro or regular Capture One); it will contain all the other versions.
At the first launch you will have to choose your running mode:
Fujifilm Express version activates right from that menu – just go to "More Options" and choose the Express mode and you're ready to work.
No license codes are required; Fujifilm-versions simply won't work with RAW files from other cameras.
Fujifilm Pro activates here as well; Pro version offers a 30-days free trial.
After it ends, you may purchase a Pro license or return to Express version.
Also, you can change running mode at any moment in Capture One license preferences.
3. Capture One Express Fujifilm
Download Capture One Express Fujifilm
Capture One Express Fujifilm is a simplified version of professional RAW-converter.
What is really important, Capture One Express Fujifilm offers the same realistic and clear color "rendering" of your RAW files, as Pro version does.
Besides this, Capture One Express Fujifilm provides you with all the basic editing tools. With Express version you can:
Change Exposure, Contrast, and Saturation
Correct White Balance and work with selected colors
Perform basic Levels and Curve corrections
Create Black & White images
Organize your RAW in a solid archive and quickly browse your image collection
Export your RAWs to JPG/TIFF and other final formats
In other words, Capture One Express Fujifilm delivers professional RAW-handling quality absolutely for free.

But… If you wish to get maximum from your RAW files I suggest to learn more about the Pro version.
Layers, advanced color correction, Levels and Curves Channels perform a real magic with your RAWs. This is the reason why professional photographers worldwide are choosing Capture One Pro.
4. Capture One Pro Fujifilm
Download Capture One Pro Fujifilm
Capture One Pro Fujifilm offers all the same features as the regular Pro, except Fujifilm version works with Fuji RAF files only.
Pro Fujifilm allows you to locally edit your image in layers, easily even out a skin tone and perform a professional color correction in a few clicks.
Even if photography is only your hobby, Pro version will provide you with completely new tools for your creativity.
Let me give some examples, of what you can create with Pro version of Capture One.
First of all, Layers. That's a fantastic tool to edit specific areas of your image.
The feature of Layers in Capture One is that you can create complicated masks in just a few clicks. Draw a rough mask, select Refine mask and that is it:
Now, you can apply almost any tools to this layer: Curves, Levels, Color Editor, White Balance, Color Balance, Exposure, Contrast, Saturation, Brightness, HDR, Clarity, Sharpening and Noise Reduction, Purple Fringing, and Moiré – all these tools are available with layers.
Plus, you can copy and invert layers in Capture One.
For example, here I have created a mask from skin color (yes, you can create masks from color in Capture One) to have a layer with a skin mask only. Then I have copied the skin mask to a new layer and inverted it to have a layer with a masked environment.
Now we're applying different film styles to each layer and adjusting opacities to achieve the best look.
Magic.
Also, you can apply presets with saved adjustments to layers and easily change layer opacity.
Like here; I have applied Kodak Royal Gold 400 v4 Winter from Film Styles Extended Set to a layer and changed its opacity to find the look that fits this image best.
Talking about other features – in Capture One Pro you can work with Levels Color Channels.
This tool allows you to remove a color cast and get the true and realistic color.
BTW, you can use Levels in layers for portraits as well.
For example, in this image, I have drawn a gradient mask on the left side of the picture and adjusted the white point:
Another great tool – Color Balance which allows you to separately color tone shadows, midtones and highlights. Mix it with layer capabilities of Capture One and you'll get a real killer feature of RAW editing.
On this image, in just a few clicks I've created a mask based on water, changed its exposure and added Color Balance correction.
Impressed? Here I'm sharing more examples of how Capture One Pro tools can improve your RAWs.

For professional photographers, Capture One Pro Fujifilm offers a variety of tools to develop your photography business:
Tethered shooting capabilities
Session mode to store RAW files, settings and output files as complete projects
Keystone Correction tool for architectural photography
Soft Proofing to ensure that the preview matches the output file for scale, color, compression and sharpness
Watermarks, LAB Readouts, CMYK Space Support, and other professional features
If you're looking for the full comparison of Express/Pro features, you'll find it right here.
5. Pricing
There are two types of Capture One Pro Fujifilm licenses available:
Perpetual License
Perpetual License price is $199 which is $100 lower than regular Pro license.
Plus, you can save $19.90 with this code – AMBC1BLOG
Perpetual license means that you pay for a specific version of Capture One and you can use it as long as you want. All the updates within a current version are free, upgrade to the next version is paid.
The great news is that Capture One 11 Pro Fujifilm license includes a FREE upgrade to the next major release. That's why you shouldn't worry about Capture One 12 upgrade expenses – you will receive it for free!
So, for $199 you receive Capture One 11 Pro Fujifilm license and a free upgrade to Capture One 12 Pro Fujifilm.
Subscription
Capture One Pro Fujifilm license is available with three subscription plans:
3-month plan, paid monthly (23 EUR/month, 276 EUR/year)
Annual plan, paid monthly (16 EUR/month, 192 EUR/year)
Annual plan, prepaid (159 EUR/year)

If you've decided to switch to Capture One – the prepaid plan for Pro Fujifilm is the most optimal option.
It's cheaper than regular Capture One Pro plan (180EUR/year).
Plus, you can save an additional 8 EUR with this code – AMBC1BLOG.
Subscription license means that you always have an access to the newest version of Capture One.
At the moment, this is Capture One 11.3, but even when Capture One 12 will be released, you will immediately have an access to it.
With the subscription, you can run Capture One Pro Fujifilm on two different computers simultaneously. If you would cancel the subscription, you will not lose your editings and image archives; you will be just not able to run Capture One until you would renew the subscription.
6. How Do I Get the Discount?
For Perpetual License:
1) At Phase One on-line store click "BUY NOW" to purchase the Capture One 11 Pro Fujifilm Perpetual License or Pro Fujifilm + Styles bundle.
2) In the payment window click "Enter Promotional Code" and enter this special code AMBC1BLOG, select "Apply" and you will immediately gain 10% discount.
For Subscription:
1) Add to cart Annual prepaid plan and continue to checkout.
2) At Checkout page enter this voucher code AMBC1BLOG and click "Use voucher".


You'll immediately get 8 EUR discount!
7. What to Choose: Perpetual License or Subscription?
Subscription is a smart choice when a 30-days trial is over, and you feel that you need more time to test Capture One in your workflow.
Perpetual Licence is much more profitable in the long-term.
That's why if you decided to switch to Capture One Pro Fujifilm – I recommend you to buy a Perpetual Licence. With Perpetual Licence you don't have to worry about regular payments; you own the license. You may pay for further upgrades or continue to use your current version – it's totally up to you.
Should I Switch from Capture One Pro to Fujifilm Pro?
If you already own a Capture One Pro license, there are no benefits of switching to Capture One Pro Fujifilm.
Starting with Capture One Pro 11.3, there is no difference between Pro and Fujifilm Pro. Except the fact, that Fujifilm Pro is restricted to work with Fuji RAWs only.
With regular Pro, you'll get an access to all the Fujifilm Pro features, such as GFX 50S support, tethered shooting capabilities and Fujifilm Film Simulations.

Fujifilm Pro benefits new users with a lower price tag, but if you already own the license – paid upgrades will be more cost-effective for you.
At the same time, if you're on Capture One Pro subscription plan – it makes sense to switch to Pro Fujifilm subscription. If you're working with Fuji cameras only – you will not notice any difference, but will just save some cash.
8. Free Guide to Capture One
Capture One Pro 11 is a complex app, that's why it takes time to master it.
I've prepared a free guide to learn Capture One; it will give you everything you need to begin working in Capture One without a mass of overwhelming information.


9. Film Styles for Capture One
According to Phase One, Fujifilm Film Simulations will be provided in an upcoming release of Capture One.
The good news is that you can get 200+ film styles as of now!
In my work, I use 1Styles.pro Film Styles. There are more than 200 styles which you can quickly scroll through and immediately see which would fit your image best.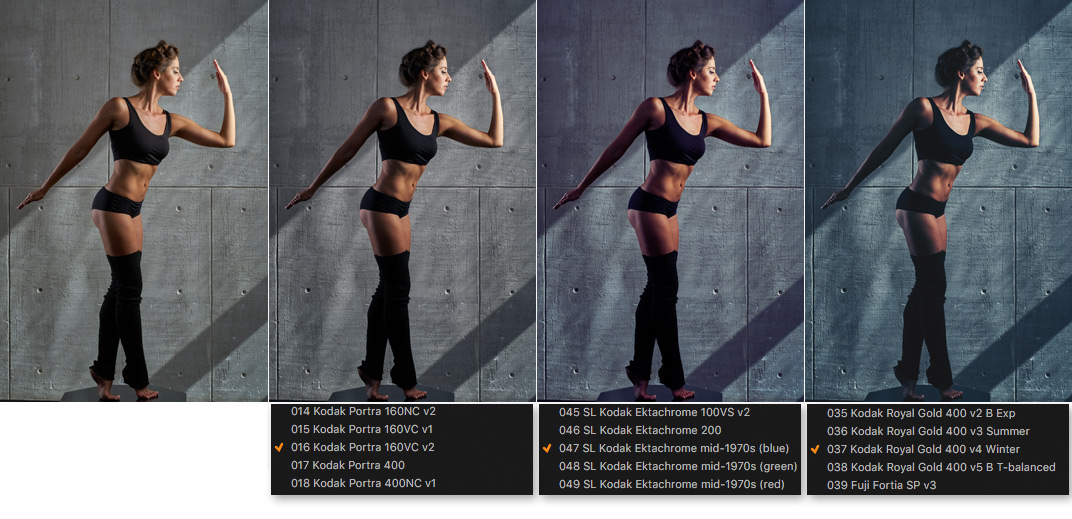 You can download five film styles for free right here:
Buy now

You'll find seven additional free styles at this link.
Simply try them with your images – it's a completely new experience for RAW editing.
10. Join Capture One Community
If you're new to Capture One, here are three things which I recommend you to do:
1) Join our Facebook Group and feel free to ask questions about Capture One here.
That's ok if you don't understand something in Capture One. We're running community to help each other!
2) Subscribe to my Newsletter
Each issue of the newsletter contains:
Latest news from Capture One community
Reading of the week
Capture One tip of the week
A free RAW file for practice
It's absolutely free, and I promise not to send emails more often than once a week!
3) Subscribe to my YouTube channel
I'm running Capture One Live Show where we're discussing the latest Capture One news, and I'm showing my favorite tips for RAW editing.
And the best thing is that you can watch it live and ask questions!
Plus: you can upload your RAW files to see how I would edit them in one of the next episodes of the show.
Author – Alexander Svet
Alexander Svet – professional photographer and specialist in image processing.
Phase One Certified Professional and Capture One trainer.
AlexOnRAW.com