This post contains affiliate links and/or codes, so if you purchase a product through such a link or with such a code, I may receive a small commission at no extra cost to you.
Plugins were introduced in Capture One 12 and… they went kind of unnoticed at the release. There is a fair reason for this – there are only a few plugins available at the moment.
But still, plugins can be really beneficial to your workflow, so I decided to test all of them and share my experience with you here.
This week I have tried the Format plugin, which allows you to publish images on Format.com right from Capture One.
What is Format.com?
Format.com is a smart platform for running your online portfolio. There are lots of similar services around, but Format looks and works just way better than everything I have ever seen before. Simple and intuitive interface, really nice design templates and lots of pro features.
For example, on Format, you can create password protected galleries for your clients, where they can review images and download them.
Everything is customizable, say you decided to allow your clients to download only small watermarked previews from the gallery.
The best thing is that with the plugin you can create new galleries and upload images right from Capture One. Let's see how it works.
First of all, you need to download Format Plugin, then open Capture One preferences and drag-n-drop the plugin here to install it.
Say, you have just finished editing a shooting and you want to share images with your client.
Select images, right click on them, chose Publish — > Publish to Format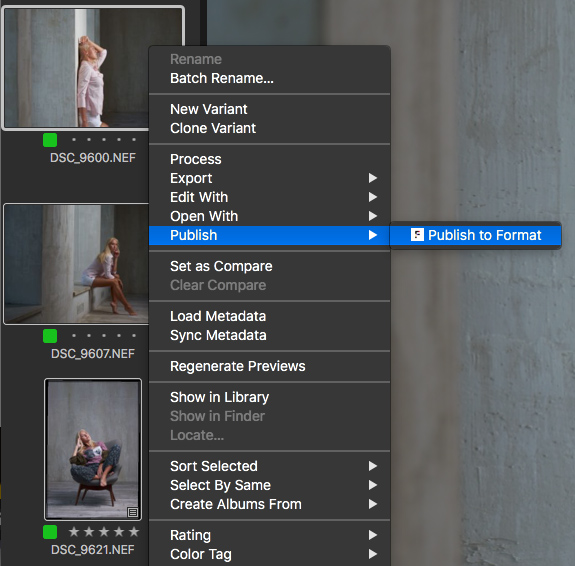 Here you can set file format, size, quality, output sharpening settings, metadata, and watermark for your photos. In other words, you have all the control over your processing.
Now, the main feature of the Format plugin – integration with the web service. Right from the app, you can set a gallery to upload your images or create a new one.
Click Publish and in a few minutes, you'll see all your images in a selected gallery on Format.com. The only thing you need to do now is to send a link to your client and wait for the feedback.
The main disadvantage of Format Plugin is that it is available only for Mac OS just yet. But if you're on Mac – it's definitely worth to try it.
BTW, if you're developing some plugin for Capture One – feel free to contact me at [email protected]
I'll be glad to test your plugin and to share my experience with thousands of Capture One users.