First of all, there is no auto-cropping in Capture One.
However, sometimes you might see some cropping applied by default. The reason for this is the Lens correction settings.
By default, Capture One applies a distortion correction to some images. The thing is that Distortion tool modifies your image and thus affects the cropping.
You can easily turn it off by clicking "…" icon and choosing "Disable Default Lens Correction".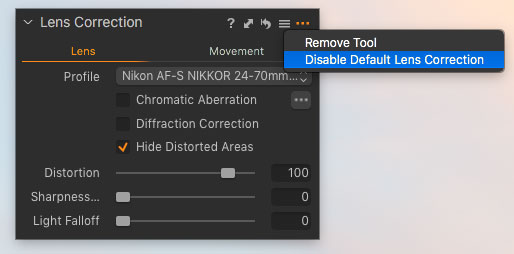 Capture One Hidden Features is a collection of more than 200 pro hints to improve your Capture One workflow, structured into an easy-to-read book.
You can download four chapters from the Capture One Hidden Features ebook free of charge:
3. Must-Have Shortcuts
14. Hidden Features of Layers
27. The Power of Mask Inversion
38. Automation with Macros
Simply subscribe to the AlexOnRAW newsletter by entering your email in the form below. After subscribing to the newsletter, you'll immediately receive the four chapters from the book. Also, you'll regularly get a friendly newsletter with free Capture One tutorials, image editing tips and tricks, and news from Capture One community.